It's hard to believe we're started already 2016! It's time to say hello to some gorgeous new interiors trends. If you're planning to freshen up some rooms in your home in the New Year, read on to find out what the big looks of 2016 will be…



Broken plan living
Have you heard of broken plan living? No, not open plan, broken – it's a term that emerged during the
RIBA House of the year award
finals. Mary Duggan from the judging panel noticed that many of the designs reaching the final stages of the prestigious competition had moved beyond open plan space design and were starting to incorporate
nooks and crannies
that were joint up but also allowed separation.
The fluid movement of open plan living is still very much a thing but partly driven by the increased use of individual electronics such as smartphones and mobile phones, there's now a need for additional private relaxation areas. To tap into the trend you can maintain flow of light by fitting internal bi-fold doors,
these from Vufold are floor to ceiling designs
and can be folded back to open up the room. Other options include the fitting of glass or Perspex panelling or even sliding walls. Tech fans might choose to step things things up technologically by selecting furniture that incorporates electronics and also divides up the space, promoting minimalism and practicality.  
Artisan and sustainable
Think local, shop local and now, decorate local – or at least, with an artisan attitude. After flourishing in the foodie world, the artisan and sustainable trend is now hitting interiors. Think upcycled and reinvented furniture pieces combined with handcrafted accessories such as home woven rugs, pottery or basket work. Etsy is a great place to pick up inspiration but you're just as likely to find pieces at local markets or why not hunt out your next favourite local crafter with the help of social media? Lots of areas have a set time each week where they promote local businesses using a hashtag that combines the name of the place and the word hour, eg #manchester hour #northeasthour and
#brightonhour
. Why not tune in to discover artisan suppliers in your region?Check also the Maker's market
in Manchester! If you into
sustainability
living you have to follow my journey about #LiveLagom
Brights and darks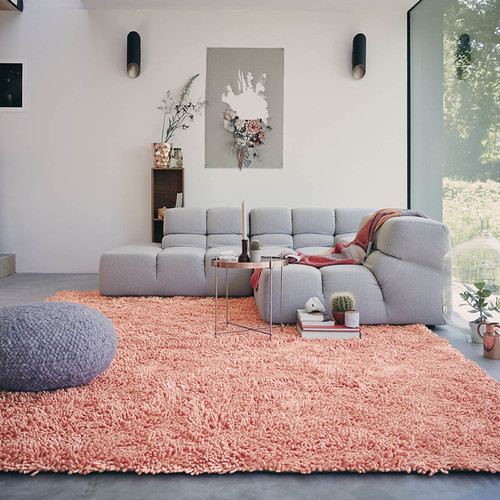 Neutrals, pale pastels and brights has been a hot colour combo for some time, particularly when it comes to Pinterest-perfect looks for blogging spaces. Now it's time for a much more exotic and opulent update as brights combine with darker shades for a little more drama. We're familiar with metallic from the industrial interior leanings of the last few years, but this firm favourite also gets a luxe update as designers swap copper for splashes of gold. Along with a contrast of colours comes distinct textures, providing interest without being overbearing.  In the living room, think chunky woven patterned rugs alongside gold embellished mirrors and lighter coloured walls.
Shade blending
Image by DIY Network with tutorial how to make ombre wall
Ombre walls; now that was a tricky trend to execute! All that gradual paint mixing is a lot of effort, but what about shade blending? Rather unusually, colour guru Pantone has this year committed to two colours of the year and heralded shade blending as one of the feature trends of 2016. On their website, the brand explains that declaring a colour of the year simply wasn't enough this year, instead they've chosen Rose Quartz and Serenity in combination as the shades to watch out for. Pantone points to psychological reasons for the choice and they're obviously hoping those who take their lead may experience some benefits of colour therapy, stating: "Joined together, Rose Quartz and Serenity demonstrate an inherent balance between a warmer embracing rose tone and the cooler tranquil blue, reflecting connection and wellness as well as a soothing sense of order and peace."
These blended shades are undeniably a little friendlier on the eye than last year's shade, the dark plum hue Marsala, and will undoubtedly make their way onto the walls of some seriously cute bedrooms and bathrooms over the next year. If you're wondering how to incorporate them into your next project, check out Pantone's suggestions for colour pairings.
Do you have any redecorating or renovation plans for 2016 and do any of the above trends have interiors appeal for you? Are you already shopping artisan and have some sourcing tips to share? Comment below with all your interiors plans and tips.
*collaborative post