For this amazing occasion
PartyLite
send me their Halloween candles collection to review!You may remember my previous post from
PartyLite Candle Review
? You will know how much I adore their concept! Halloween collections is something special thought!I bloody love it! They smell amazing, and just check out the designs. Isn't it the most amazingly designed candles for Halloween? I absolutely adore the candy skull black votives holders! I think these would look amazing regardless you put loads fancy decorations or not. I have received in my parcel
Hocus Pocus Scented Jar Candle, it is with double wicks and it's a huge with surprisingly delicate fruity scent! In the parcel, I also found a Colour-Changing Candle Base, which I haven't used duo to not finding any working battery in my home! Urghh..sorry! The Skeleton Dance Votice Pair is my favourite! The design is scary famine but the colours will also look ace in any masculine home such a beautiful design, Autumn Glow Votive just made me soo excited for Xmas! The smell of apples and pears! So yummy! Hocus Pocus Tealights
, are selection of colourful and neon light and sweet fruity scent!
  Scroll to the bottom to find out How can you win the whole collection for your Halloween!
As promised, I will now try to inspire you with most beautiful/ scary Halloween decor! Halloween doesn't have to be dark and moodie, it can be colorful and fan too!  Enjoy!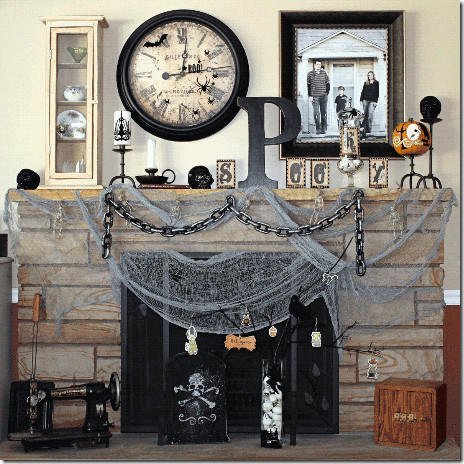 Also, there are few fab ideas from fellow Interior & Craft bloggers! Head toward Natalia's blog to find Top 10 Halloween treats including Vodka!
link
Mikesha will show you how to do amazing DIY bloody candles! Check it out!
Link
Jennifer will teach you how to make pretty awesome
Halloween bats
! So easy and clear instructions you can't miss!
Now, the Best part! Halloween Giveaway!
The prize
: 
Hocus Pocus Scented Jar Candle x 1, 
Colour-Changing Candle Base x 1 
Skeleton Dance Votice x 2 (1 x pair)
Hocus Pocus Tealights x 12
sorry I ate the cupcakes!